At Seams For Dreams we help you to get rid of all the extra clutter in your closets! We take everything from your jeans and t-shirts to your high-end couture. By donating, you're providing layers of love and warmth to those who truly need the comfort of having second hands.
So with the change of season it is time to empty that closet. Take out the clothes you haven't worn in quite some time, the ill-fit dress you got as a present, those skinny jeans that you will never fit in again.
Free yourself from the heavy burdens of seams and exchange them for new dreams.
Here's how to donate your old clothes in 3 easy steps:
CLEAR YOUR CLOSET
Take out all the clothes you haven't worn in over 6 months, unless they are seasonal, you sure won't wear them again!
WASH AND FOLD
At Seams For Dreams we appreciate quality clothes, freshly washed and nicely folded to make things easier for us to segregate!
PACK AND SEND
Simply put all the clothes in a box and send it over to us. It would be great if you could add a letter to your package stating the number of items you have donated to us.
What happens next?
Your donations are then segregated into three categories:
Outreach– We take your kurtas, jeans, t-shirts which are then distributed through our network of partner NGOs across India to the ones in need.
Fundraising – Are events wherein designer wear and high end clothing are sold at our garage sales to raise funds in support of our mission to clothe people in need.
Recycling, – This includes all the scraps, damaged clothes, fabric donations, which we use for our recycling and upcyling projects to raise awareness for the need of sustainability in fashion.
We believe that rewearing and reusing clothes is the future in fashion. So, join our movement and give in style!
Let's fight the COVID-19 crisis together!
Dear Friends and Family,
We hope you all are staying safe and staying at home during this time of a global lockdown due to COVID-19. Our world has come to a screeching halt and while many of us have the comfort and luxury of being in our homes with plenty of food and water, many of the people in India are still suffering namely daily wage labourers and migrant workers, who are estimated to make up about 20% of India's workforce. Millions are stranded in set up camps.Many have taken to walking due to the closure of transportation services, while others have been quarantined on the side of roads in makeshift shelters without access to food or water, and most importantly any sort of income to support themselves or their families.
As we are all home, let us take the time to clear out our closets of all the spare basic clothing like jeans, t-shirts, or kurtas; and other fabric essential like towels, blankets, bedsheets, or pillowcases.
We are all in this together, so let's all help each other out. In this time of urgent need, we are counting on your monetary support and in-kind donations to provide basic clothing and essentials to as many people as possible stricken by this disaster.
Emergency Donation Process
Below is the process one can follow during this emergency donation call, to ensure your packages are safe for direct distribution.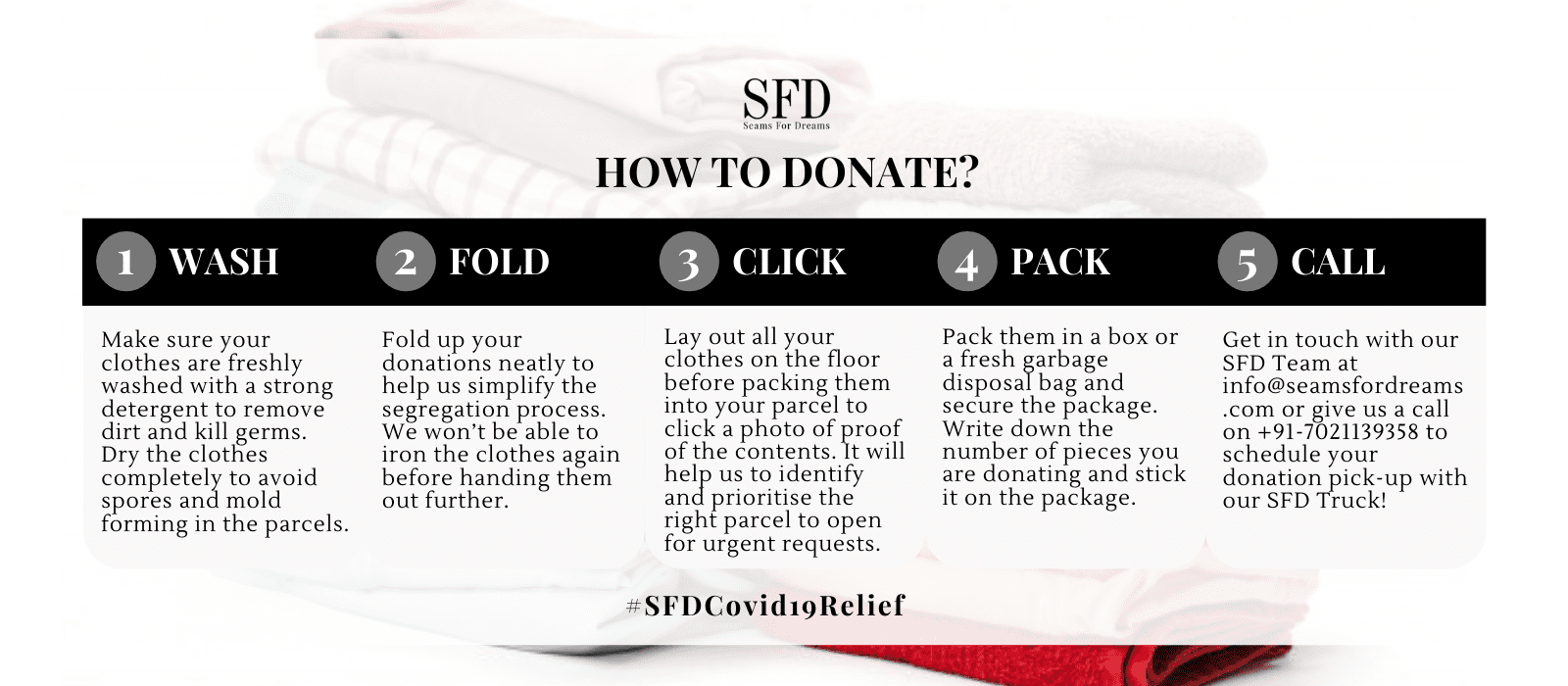 If you would like to donate and be a part of our #SFDcovid19relief campaign, get in touch with our SFD team to schedule a pick-up.
All pick-ups will be carried out through our trustworthy partners thus we assure 100% hygiene and sanitation. Stay tuned and follow us on our social media and our blog for more details in the upcoming days.
---
Get in touch with the SFD team at info@seamsfordreams.com or
give us a call on +91-702113935 to schedule your donation pick-up.
---
Your donation will further our vision of clothing 100,000 under privileged people. You can now donate by clicking on the donate button. Good deeds start small. Donate to make a change and share your privilege with the less resourced communities.