Featured up-cycled outfits that will be presented at the 3rd Garage Sale on the 4th of October
So, how was the start for the week for all you Fashionistas? Tuesday is here once again and we are sure that you can't wait for Friday to roll in already. But hey, let's make the most out of the week and see what cool outfits we can wear to work, for shopping, walking around and having coffee with friends.
Here are top 5 cool fashion looks that the SFD Team have prepared. What's cool about these outfits is that they are not only fashionably stylish but also fashionably ethical as they are all up-cycled – reworked from vintage fabrics and pieces to create a new and refreshing look to rock any day of the week. And they all can be bought at our 3rd Garage Sale on the 4th of October!
Up-cycled Fashion Look 1: Work in Style

Cool lines sum up this work outfit, gearing away from boredom to a sleeveless bottomed-up top in grey and soft asymmetrical skirt in black. Pair with comfortable platforms in black or grey and you are good to go for a power meeting.
Up-cycled Fashion Look 2: Catch Up Over Coffee with Friends
Donning a printed or textured skirt with a reworked top in soft fabric is an all-the-way hip and comfortable outfit that anyone can pull-off over coffee in the city. Reworked in vintage fabrics, these 2 outfits are easy and fun and can easily earn a complement or 2 from your best friends.
Up-cycled Fashion Look 3: Chic While Shopping
Shopping can either be tiring or fun and this chic and simple ensemble can definitely make you feel better while trolling the shops and the malls with easy Capri-style pants in midnight blue and an off-shoulder top in light gray. Pair with ballerinas or with low-heels so you can go a long way through the day!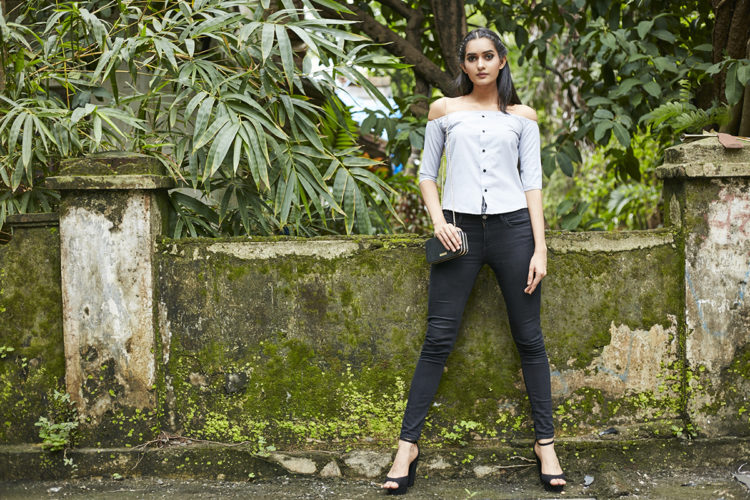 Up-cycled Fashion Look 4: Bohemian Cocktails
This hip bohemian-inspired outfit is perfect for those early cocktails with your close friends or just lounging in one of your favorite hangouts before transitioning to a more hectic evening with people. Neutral brown goes so well with prints as seen in this ensemble, boho-chic as we say.
Up-cycled Fashion Look 5: Rock the Night Diva
We love this outfit as it mixes 2 types of fabrics in shades of black and the cut is well-tailored to highlight the waist, creating a sexy and at the same-time stylish silhouette.
With all these 5 cool looks curated by the SFD Team, you are chic and at the same time, getting on the latest trend known as upcycled fashion and pioneered by Seams for Dreams. Now where can one get all these looks? You can purchase them at our 3rd Garage Sale on the 4th of October at Olive Bar and Kitchen! See you all there Fashionistas!