Dear SFD Friends,
I hope you and your families are safe staying at home during this time of an almost global lockdown due to the novel coronavirus that's making its rounds. Our world has come to a screeching halt and so did SFD for a few weeks. Our team has been sent to work from home and our office has been shut to avoid putting any staff in danger. Now, after slowing down our operations to the bare minimum to protect all of you, we are back with new improved security measures in the pick-up and drop of donations!
INDIA NEEDS YOUR SUPPORT NOW MORE THAN EVER!
While many of us have the comfort and luxury of being in our homes with plenty of food and water, many people in India are suffering. Namely, the least resourced communities like daily wage labourers, our migrant workers and their rural families, who are estimated to make up more than 20% of India's workforce. Millions are stranded in set up camps, with only a few hours' notice to immediately return to their villages. Many have taken to walking due to the closure of transportation services, while others have been quarantined on the side of roads in makeshift shelters without access to food or water, and most importantly any sort of income to support themselves or their families. The United Nations even described the current situation as a "humanitarian disaster".
My heart truly goes out to everyone affected by this corona crisis. I believe this is an opportunity for everyone with influence and finance to step up and come together to help those who are facing complete ruin at this time.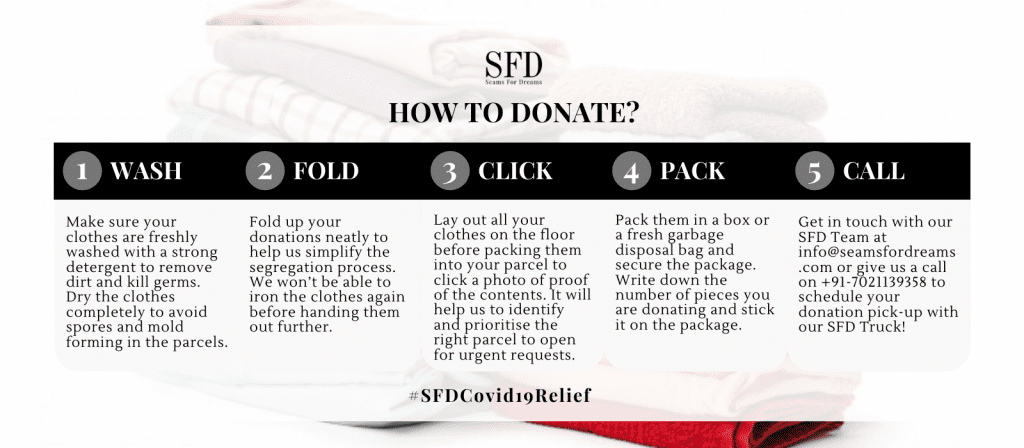 Above is the process one can follow during this emergency donation call, to ensure your packages are safe for direct distribution.
My team and I at Seams For Dreams are working with full speed to provide basic clothing and other essential items, including clean towels, blankets, and bedding, to people from all over Mumbai and India who are stranded in shelters. Since this is an emergency relief campaign, all the items that you would like to donate will have to be packed according to the Emergency Donation Process, and of course, will be quarantined before further delivery to avoid contamination. All donations will then be delivered directly to the places and people that require them.

To be a part of our relief efforts, start packing NOW. Go through your wardrobes and remove all the basic clothing items and other fabric essentials like towels, blankets, bedsheets that you can donate and get in touch directly with our SFD team to schedule a pick-up. All pick-ups will be well-planned and carried out according to the safety requirements given by the WHO and the Indian Government. Stay tuned on our SFD social media and blog for more details in the upcoming days on the dos and don'ts for this donation gathering.
Evelyn Sharma
Founder & MD | Seams For Dreams
---