As we count the days until we give and receive Christmas presents from friends and loved ones, we must not forget to share the love and to give to other people in need in India this season. Seams for Dreams has listed different ways to share your hearts to people who need some love to light up their lives this Christmas that will not cost you a single cent, but will be priceless.
Donate your clothes to Seams for Dreams.
We have officially started the Christmas Donation Call and your clothing donations will go a long way in giving hope to the children and the families living in the villages in India. Seams for Dreams has partnered with NGO's in our distribution missions, sending out a minimum of 2000 pieces of clothing to villages in India and this Christmas, we plan to step up and give more, in partnership with the NGOs who have worked with us since the start.
To donate your clothes and create smiles for the children and families in need, email us at info@seamsfordreams.com so we can pick up your clothing donations or give instructions on how to go.
Make your own Christmas gift through Upcycling
From the unused clothing that you have in your closets, you can create beautiful handcrafted gifts by reusing them and turning them into fabric roses, bags, pouches or table covers. Creating your Christmas gifts with fabrics from unused clothing is a unique and original idea that will be treasured by the people who will receive them as you took time in creating and sewing them. Here is a site that offer great DIY Christmas gift ideas: http://www.countryliving.com/diy-crafts/tips/g645/crafty-christmas-presents-ideas
An apron created from used clothing that can be an awesome gift for your loved ones who love cooking.
A cool crochet top upcycled from old clothing can be a great gift to one of your fashionista friends.
And if you missed it, here is the link to the DIY fabric roses that we published recently to start you off in creating that gift that will not cost you much. DIY Fabric Roses Instructions: http://seamsfordreams.com/awareness/spread-the-love-by-making-your-own-fabric-roses/
Participate in Christmas charity events this Christmas
There are a lot of events and activities in Mumbai this December that promote charity and good tidings in celebration of the holiday season. Recently, Seams for Dreams participated at the Stylecracker Borough wherein we sold vintage and second hand clothing to raise funds for our charity missions.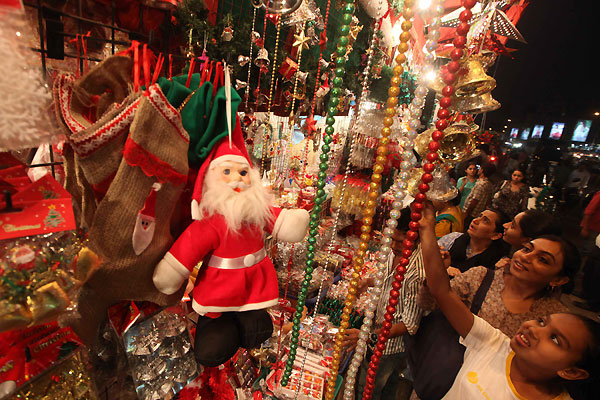 You can do the same by participating at the events in your neighborhood in raising funds for food, clothing and shelter for people in need of them this December, like the charity
event Pay In Kindness happening on the 16th of December 2016 where you can donate candles, stationery, jewelry, toys and home décor. Events High offers a grand list of events in Mumbai this December 2016 for you to choose from.
Bake Cakes or Cookies for the Children.
The holiday season creates that buzz from a lot of people to come in food and shopping fairs and another way of sharing the love is to create your own dessert creations and sell them at the fairs, raising funds for you to buy your own gifts or to donate to your chosen charity or orphanage.
Christmas cakes and cookies also bring lots of smiles to orphaned children and what better way to feel good through the baked goodies that you can give to the less fortunate kids who will definitely love them. There are many orphanages in Mumbai that you can contact and donate your desserts and baked cookies, check out the list at http://www.karmayog.org/adoption/adoption_16588.htm
From clothing donations to baked cookies, it is up to you to choose which way you want to share and give love this Christmas. The most important thing is the hope and light that other people in need will receive from your kind acts that will surely make you feel better and fulfilled this holiday season.