With the move to her new office space, SFD founder Evelyn Sharma announces a new outreach project, the SFD Love Bundles, to simplify the donation process for all Seams For Dreams supporters. "My friends often ask me what exactly do we use the funds for that people have donated. It's actually very clear: We use it to achieve our mission to clothes people in need across India. However, to the layman it still sounds confusing. So with this new project the SFD Love Bundles I would like everyone to understand the exact process. If you donate 500 INR you are covering the complete expenses of one Love Bundle – from the pick up of fabric donations, to stitching the bag, to all coordination necessary for the beautiful products inside the bag, to finally handing the Love Bundle out to a girl in our outreach event. All this will be documented on the SFD Social Media and website for you to follow and clearly understand our process and where your money went into."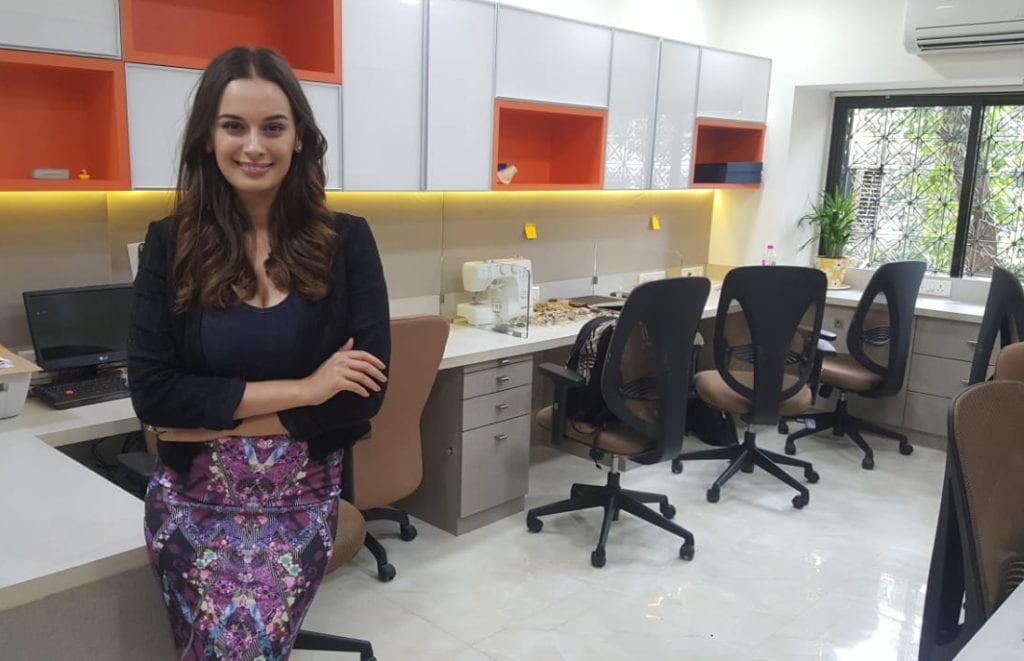 While Seams For Dreams has been consistent with it's clothes distribution efforts (approx 1500 items per months), the team is always looking for innovative ways to make a difference through all the donations received. In addition to clothing donations, Seams For Dreams also collects scrap fabric from well-known fashion designers. One of Seams For Dreams' principles is to never let any piece of clothing or fabric go to waste, hence the organization utilizes these pieces to create new masterpieces in the form of the up-cycled line and the newest project.
Seams For Dreams has already created the first batch of Love Bundles which were made from beautiful fabrics donated to by Sonam & Paras Modi's SVA Couture. These 100 pieces will be gifted to women and girls from less privileged backgrounds! The Love Bundle is a bag created with much love from up-cycled material, and contains personal hygiene and cosmetic products like kajal, lip balm, hand sanitizer, sanitary napkins, etc. from ethical & eco-friendly brands to promote self-love and care impacting their everyday lives.
All the items in the Love Bundles are re-usable, disposable and holistic! The Love Bundles is truly a project that aspires and encourages young women from less privileged backgrounds to discover their worthiness while promoting hygiene at the same time. These Love Bundles are now up for sale at ShopXOE.com for only INR 500 a piece and once the first 100 are purchased, they will be distributed to those in need through our partner NGO to adolescent women rescued out of human trafficking.
Every month SFD will feature selected products in the Love Bundles and since this will be an on-going initiative, the team continues to look for collaborations with sustainable brands that share a common ethos with Seams For Dreams to give back to humanity and the planet. If you are interested in being a part of the Love Bundles project with Seams For Dreams, do send an email to info@seamsfordreams.com
Keep Giving in Style!
Team SFD