The Seams For Dreams team is really appreciative of all the support received in regards to donations for those who have been impacted by the COVID-19 pandemic. While the team is busy arranging for all the pick-ups for the donations to be received thus far, the organization wants to encourage all of you to donate what you can! Seams For Dreams is currently looking for fabric essentials such as appropriate clothing, towels, blankets, bedsheets, and pillow cases. All of these donations will then be distributed to those who are stranded or in shelters through our partner NGOs. Right now, our calling is to help our migrant workers and to provide them with basic necessities.
Seams For Dreams is thankful for all the continued support as we all try to do our best to help those from less-resourced communities across Mumbai. For all who have already gotten in touch with the team to arrange for a pick-up, the team will be scheduling the SFD Truck pick-ups soon.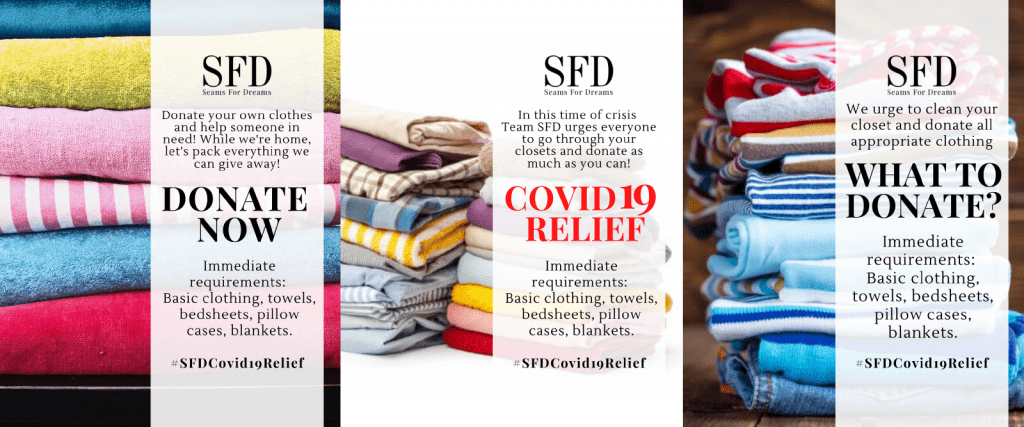 To get in touch with the team and donate, get in touch with Seams For Dreams at info@seamsfordreams.com, or give us a call on +91-7021139358. As always, stay tuned on the Seams For Dreams Instagram and other social media handles for weekly updates! You can DM us on instagram as well and our team will get in touch with you.
Check out our website www.seamsfordreams.com/donate for more information on how to donate in case you missed it.
Let us all stay safe and stay positive.
Team SFD