Hello friends!
Firstly, I'm wishing each one of you a prosperous NEW YEAR!
2020 has been a crucial time for us at Seams For Dreams. As the year 2021 steps in and we adapt to the new normal we are thrilled to see the incredible support from all of you that resonate with Seams For Dreams' vision. STAY TUNED on our Social Media to be the first to know all about our upcoming projects for the new year!
2020 has been tough on everyone, and even though we had to downsize dramatically, we were still able to increase our operations with your help! Here's a little summary of our achievements in the last year:
The Covid-19 relief campaign

Since the lockdown has begun, Seams For Dreams has started a #SFDCOVID19RELIEF campaign, where the organization continues to arrange for the pick-up of donations from generous donors from around the city's suburbs and then offering those items to the under-resourced communities that have been impacted by the pandemic. Thanks to your support we were able to distribute thousands of fresh items of clothing to people in need.
The new advisory board for the year 2021
The SFD Advisory Board brings together industry leaders with a common goal to create impact in the fashion industry. It serves as a think tank to cultivate ideas and strategies to enhance and further SFD's mission to reuse, recycle, and upcycle clothing
I take immense pleasure in once more welcoming our Advisory Board Members: Abhijeet Khandagale, part of Clean India Mission. Akshay Tyagi, a celebrity's fashion stylist and costume designer. Atiya Rakyan, Chief Recycling Officer of Raw Pressery. Chandini Chandiramani, managing director at Inked Canvas. Devina Singh , managing the communication and outreach for Fairtrade India. Kriti Tula Creative head and Co founder at Doodlage. Nandini Singh, director of the ACG Cares Foundation. Pallavi Sharda, an actress, classical dancer, writer, and advocate. Patrick Duffy, founder of Global Fashion Exchange (GFX) and Intandem Creatives. Reeta Ramamurthy Gupta is a bestselling author and content writer. Roma Narsinghani, founder of her namesake artisanal jewelry brand, Roma Narsinghani. Shivang Dhruva, founder and director at FAD International. Shubhika Davda, designer and creative director of Papa Don't Preach and Suki Dusanj-Lenz, Country Head of Fashion Revolution India.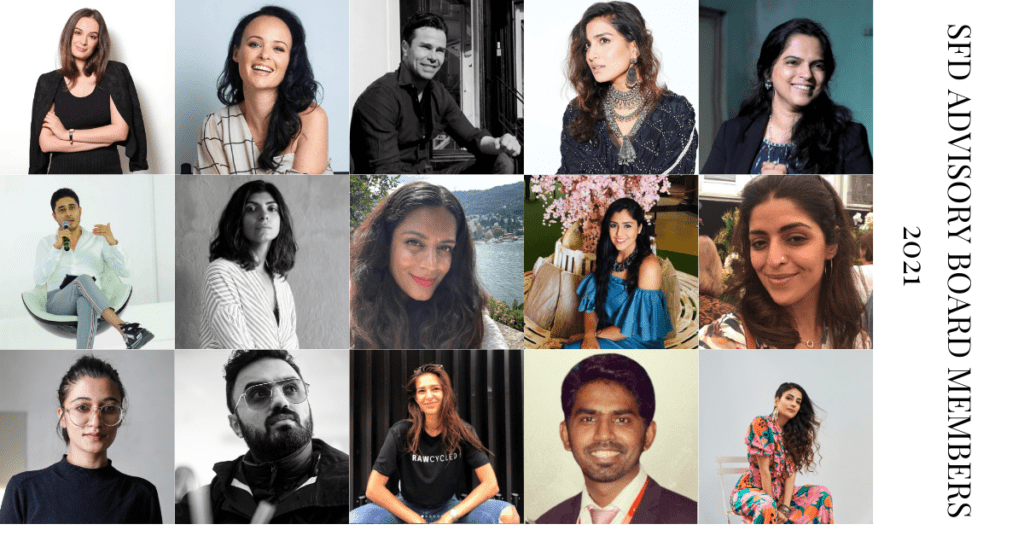 We are excited to announce some fabulous projects this coming year and are deeply grateful to our advisors for guiding us to more success! STAY TUNED on our Social Media to be the first to know all about our upcoming projects for the new year!
SFD Love Bundles – DONATE NOW
I also would like to take the opportunity to introduce the new DONATE NOW button on our website www.SeamsForDreams.com! We hope this button will make it easy for everyone who would like to support our mission to contribute with their personal funds.
One such project that requires attention is our well-known SFD Love Bundles with a suggested donation of INR 500 per bundle. This project aims to encourage young women and support them in leading a lifestyle that discovers their worthiness while promoting personal hygiene at the same time. All wrapped up in one of our beautifully upcycled fabric bundles! Contribute to spreading smiles with love bundles and DONATE NOW! Thanks to your generous donations we were able to impact the lives of hundreds of women in the course of this year.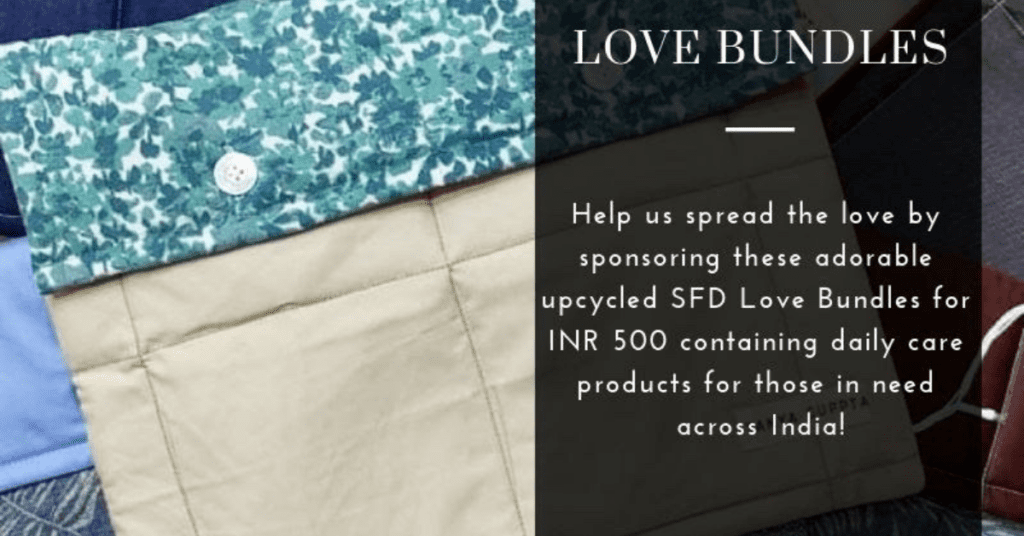 Thank you for pledging your support towards SFD to further our mission to clothe under-resourced communities across India and to expand our vision into new long-term goals, advocating for responsible fashion for a cause! We look forward to many more great years with you on our side!
Let's welcome the year 2021 with a promise to lead a more sustainable life.
To schedule your donation pick-up, contact us at info@seamsfordreams.com or call SFD Team on +91-7021139358. You can also follow us on Instagram and Facebook @seamsfordreams for more updates on our current and future projects!
STAY TUNED on our Social Media to be the first to know all about our upcoming projects for the new year!
Best wishes,
Evelyn Sharma
Founder & MD | Seams For Dreams