Seams For Dreams, we have always tried our best to be able to mobilize donations for those in need during dire circumstances and right now, the organization has called on the Mumbai community to donate not only clothing, but essentials like clean towels, bedsheets, pillowcases, and blankets. The city has many NGOs that have set up shop at various wedding banquet venues and schools and transformed the space into makeshift shelters for people who have nowhere to go. Because the number of individuals stranded may very well be in the hundreds of thousands, if not millions, the need of the hour is to provide as much support as possible.
In order to donate, here is what you can do:
First, clear out your closet and storage wardrobes and separate all the spare items that you do not require any longer. Since these donations will be going to people to use on an immediate basis, make sure everything is only gently-used. Then, wash the items with detergent along with liquid disinfectant. and ensure to dry the clothes completely and fold them as well! Due to the bacteria and mold that can build up, make sure to disinfect all the packages you will be using as well. Clothes can be packed into clean and dry carton boxes , cloth bags or new, compostable garbage bags. Finally, make sure that you label the package with the number of clothing items and the description of items so the bag can be dropped off directly to the places and people who need it.  This will reduce further segregation dn packing and prevent contamination of the clothing items.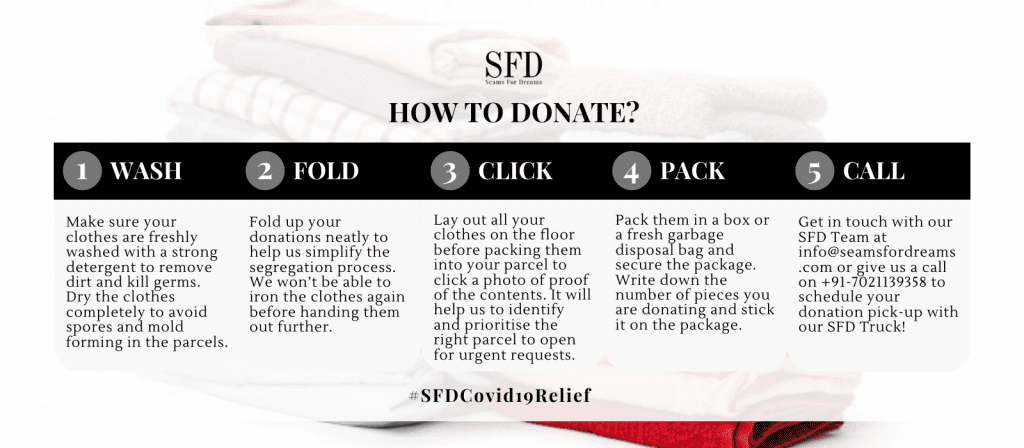 At this time it is important for all of us to come together in any way possible to help, as there are so many people around us who have lost their livelihoods due to the lockdown.
To be a part of our #SFDCovid19 relief campaign and to schedule your pickup, you can contact us on info@seamsfordreams.com or give the SFD team a call directly on +91-7021139358. You can also follow us on @seamsfordreams on Instagram for more updates.
All packages will be picked up and delivered by our trustworthy partners and 100% hygiene and precautionary measures will be assured.
Stay Safe & Stay Home!
Team SFD