Tencel®, which is Lenzing's brand name for lyocell, is a cellulose fibre found in the wood pulp of eucalyptus, birch, or oak trees. Lyocell is manufactured using a "closed-loop process" in which most of the solvents used in the production process get reused and don't pollute the environment.
To better explain what lyocell is, let's say that we generally assume that there are two principal categories of fibres:
Natural fibres: like wool, hemp, cotton, ramie and silk, and; 
Artificial fibres synthesized out of petrochemicals: like polyester and nylon.
In lyocell's case, it's primary raw material is the cellulose from wood pulp, chemically broken down. Thus, lyocell can be accurately referred to as a recovered or regenerated fibre.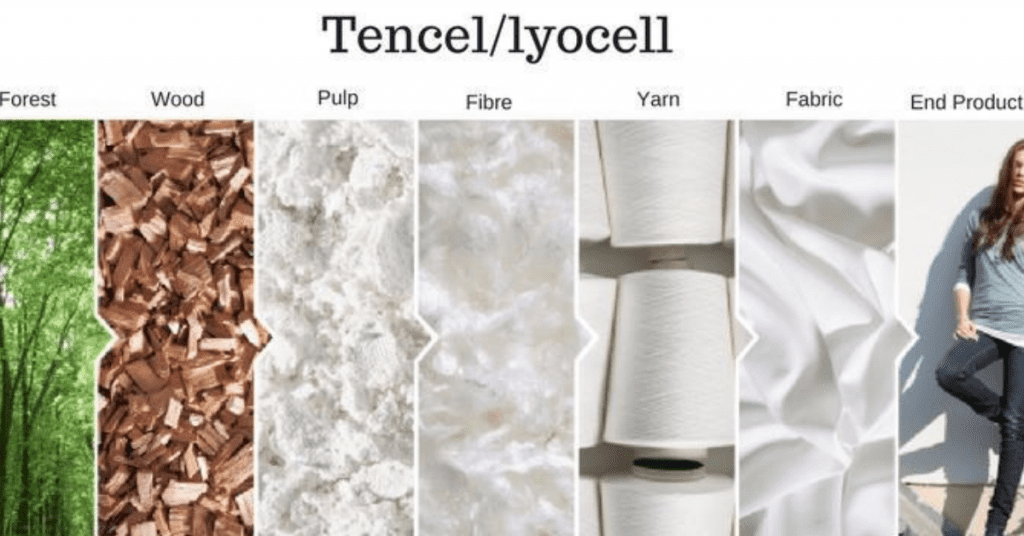 Overall, Tencel is quite versatile, and it is used to make things like bed linens, denim, shirts, T-shirts, trousers, and even towels. The material has gained popularity over the years because of its cooling, hypoallergenic, eco-friendly, and wrinkle-resistance features.
What's more, because they're more breathable and less susceptible to odorous bacteria growth compared with cotton, these fabrics are considered excellent for activewear.
How does Tencel impact the environment?
As is the case with most textiles, Tencel production has both positive and negative impacts on the environment. Tencel is made from plant materials like cotton and bamboo. Manufacturing Tencel, however, requires less energy and water than cotton.
Besides, as a naturally derived fibre, Tencel is also biodegradable, and when compared to the manufacture of other cellulose fibres, lyocell production is significantly less toxic and wasteful.
We are very familiar that environmental sustainability is one of the biggest challenges and most important targets of the present times. The good news is that more and more brands are joining a more sustainable fashion path and materials like Tencel, hemp fibre and algae are examples of more sustainable alternatives to the traditional cotton and synthetic materials.
We believe that it's crucial to look for more sustainable materials when buying a new piece of clothing. Still, even more important is to take care of what you have and reuse, recycle, and upcycle whenever possible! Let us know your thoughts in the comments below!
Team SFD